Hussey's Orchards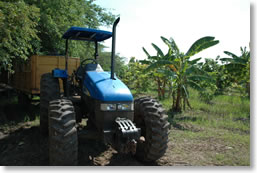 The Farm sector of the Hussey Group of Companies falls under the stewardship of family patriach Laurie Hussey, who became a farm manager at the tender age of fifteen. Lauded for the quality of sugarcane he produced then, Hussey's Orchards finds him back at his agrarian roots with 400 acres of crops under his management. On Everglades Farm near Spanish Town he is once again raising 100 acres of sugarcane with his high sucrose yielding methods.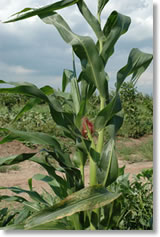 Another innovative project, Jamaica's first commercial cashew farm was started three years ago in Amity Hall, St. Catherine with the aim of producing a cashew beverage. Assistance was provided by the government agencies: RADA and the Scientific Research Council.
Brazilian cashew seeds were imported, chosen for their ability to flower within 18 months and typical growth of between 6 to 8 feet high. Utilizing Israeli technology, drip irrigation hoses allow "fertigation" -- the controlled delivery of fertilizer through the watering system to each plant. This same system is also used to grow Jamaica's national fruit "ackee."
While these trees are young, temporary 2 year crops of banana and plantain are planted amongst them to best utilize the drip system. The farm is a leader in Jamaican horticulture using these intercropping practices that optimise land use. These secondary crops also provide a little shade for the young cashew, ackee trees as well as annotto trees.
Other crops include sugar loaf pineapple (2000 plants), callaloo, cauliflower, green sweet peppers, limes (200 trees), oranges and grapefruit (200 trees each). Coconuts are planted along most drains and along the perimeter of some crops. The farm also produces about 300 gallons of honey annually.
Contact: percy@husseygroup.com